About Aubrey
"Westinghouse of the antique clock business" is what I was called throughout Asia as I exported over 75,000 antique and reproduction clocks to the U.S. and Canada. I am a 1965 graduate of Sammamish High School and a member of the 1st Air Cavalry, Military Intelligence unit, stationed in Vietnam from 1968-1969. It was hard for me to imagine that I was a field interrogator with an interpreter. In one memorable situation there was a 16 year old prisoner that knew lot of information about the location of a cache of artillery weapons including his unit but the assigned interrogation team couldn't get any information out of him. It was my assignment to get the info...I gargled Johnny Walker scotch whisky and entered the tent where the prisoner was being held and with alcohol breath jumped on the prisoner, grabbed his throat with one hand, pulled out my 45 caliber from my shoulder holster with my other hand and pointed it between his eyes and yelled and screamed obscenities (of course he didn't understand) at him until my interpreter grabbed me from behind and told the prisoner that this "American hates Vietnamese and would love to just shoot you". The prisoner immediately told me where the cache was located inluding the position of his unit. I received a bronze star for this mission but my only intention for such a hollywood manuever was not to harm the prisoner or hurt him but to actually save him. Giving me this information saved him from torture and probably death. I knew that someday the war would be over and the only threat the Vietnamese people would ever make on the USA was to open too many Pho noodle shops...Several years after the Vietnam war when I started my business I needed money and was encouraged to join the National Guard. Of course I was assured that there would never be another Vietnam war and we would never again occupy a third world country. I passed on the National Guard and now is the rest of my story............

Being of Japanese ancestry and born in Bellevue, Washington, I went to Tokyo to study Japanese language after being discharged from the Army in 1970. " I wanted to learn the language of my heritage". A year later I entered a business venture involving an advertising agency in Japan and was assigned to Korea but it failed in 5 months and I was stuck there.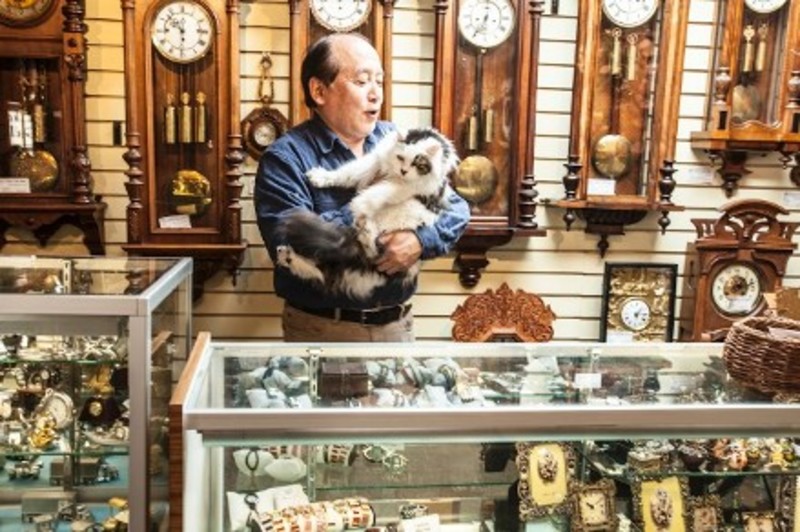 I was pretty much broke...closer to being destitute...during my stay in Korea after the failed advertising business. I borrowed money from National Bank of Commerce in Seattle and from a close friend. If I returned to the states it would have taken years to repay the bank and my friend. I didn't mind owing the bank but I couldn't disappoint my friend. I was staying at an old run down hotel in Seoul and wondered what to do. The owner of the hotel was kind enough to let me stay there for free and when I returned to the US and got a job I could send the money I owed to him. He said he felt that someday I would succeed in business and would eventually pay him back. One day as I sat in the lobby of the hotel, an importer from St. Louis sat across from me mumbling something about "missing his plane to Taipei". I asked him if I could be of some assistance. He gave me his card and told me to send him anything that might apply to his antique business. He told me to send him anything C.O.D. if I thought might be of interested to him. I took the card to my room and threw it in the dresser drawer. It was a couple of weeks later when I was walking back to my hotel through a back ally when my eye caught something in the window of one of the many junk shops. There was an American styled antique wall clock made in Japan selling for the equivalent of $7. It was then that I bought the clock and my life has changed forever.
(Japan invaded Korea in 1910 and occupied Korea until the end of World War II. I went to a hilltop near Seoul and saw a monument of Douglas MacArthur. A Korean gentleman told me when he was young it was sometime in the mid 1940's he witnessed a huge " black cloud" heading towards Seoul. As it neared the city it turned into a sky filled with American bombers led by General MacArthur. Bombs rained over the city for days until the Japanese were eventually driven out of the city. During that time not only the Japanese but also the Koreans felt that MacArthur was some sort of God and they bowed to his statues both in Korea and Japan, not out of fear but out of respect. "Any human with that kind of power must be God").
I sent the clock to St. Louis air-cargo for $9 collect. With the $2 profit I could live for another two weeks. About a month later, still staying at the hotel and not having to pay room or board, I received a call from Korea Exchange Bank informing me that money from St. Louis had arrived. I was in need of the $9.00 so I went to the bank and asked the teller for the money. The teller asked me how I wanted the money. I thought that was a strange question but I told him that I would take it in cash. The teller told me to wait and went to the back room and came back with the manager. The manager told me that they didn't have that much cash on hand. I asked "you don't have nine dollars in cash?." He replied, "nine dollars?". There is a check for $30,000 US dollars (the largest Korean currency at the time was equivalent to 1 US dollar). Years later I thought about the movie "The Jerk" with Steve Martin when he sat in front of the banker and had to count the number of zeros on the check and his head made a complete 360 degrees.
I called St. Louis and told them I received the money but what was I to do with it. The importer replied "I've been trying to get in touch with you… I want more of those clocks!"
I then borrowed money from local investors using my passport as collateral and contacted the local junk collectors and asked them to collect old clocks for me. I rented a warehouse, and the clocks started to come in. The supply was far greater than I had expected. Junk dealers from all over the country brought in all kinds of old clocks...all antique clocks in various conditions. I hired locals to restore them. "Many of the junk dealers told me that they were able to send their kids to school from being able to sell the clocks to me". My warehouse became a dumping ground for these clocks. Within 2 years, the search for clocks expanded throughout all of Korea and I shipped more than 50,000 antique clocks to the US and Canada and when the antique clocks were no longer available I designed and had built approximately 30 different German and American styled clocks and shipped another 25,000 clocks to the US, Canada, and England.
By 1974 the supply of antique clocks had run out and I felt it was time to return to Seattle. I was dating a young Korean lady, Young Sun, and promised her that if I was ever able to repay my friend and the bank I would marry her and take her back to the states. I didn't think at the time that it would actually come true. I remember telling her about Seattle, Washington where you can walk the salt water beaches of Puget Sound and within a 40 minute drive, walk the snow slopes of the Cascade mountains and another 30 minutes to the desert…king crab from Alaska 4 feet across (Korea has spider crab about 4 inches across), grapes without seeds…she told me "now you'll be saying you have watermelon without seeds"…uh, oh, well.
We now have 4 kids. The oldest is Kelly who was principal of John Stanford Elementary School and Beacon Hill Elementary school in Seattle specializing in tri-lingual education. He is currently the Executive Director of Schools for the Southeast Region of Seattle. Connie is a free lance photographer for Nordstrom, Eddie Bauer, Stanley Thermos Company and was featured in Nordstrom's fall catalog and goes by the name Coco Aramaki. Karen is our angel and lives at home and is diagnosed as having Rett Syndrome. Kenneth works for Washington Federal Bank and plays the keyboard for Country Lips…they have just recorded their second album…he was very fortunate to be a guest pianist with Les Paul in New York in 2010.
Since 1974 until now, I still have my store in Gilman Village, Issaquah and have accumulated many antique clocks from Germany, England, France, and the US…many on display. I often advise and consult clock dealers and collectors throughout the country and attend the local and national NAWCC clock shows and attend jewelry and gift shows to stay current with todays clock and gift markets.
Housecall with Tuxedo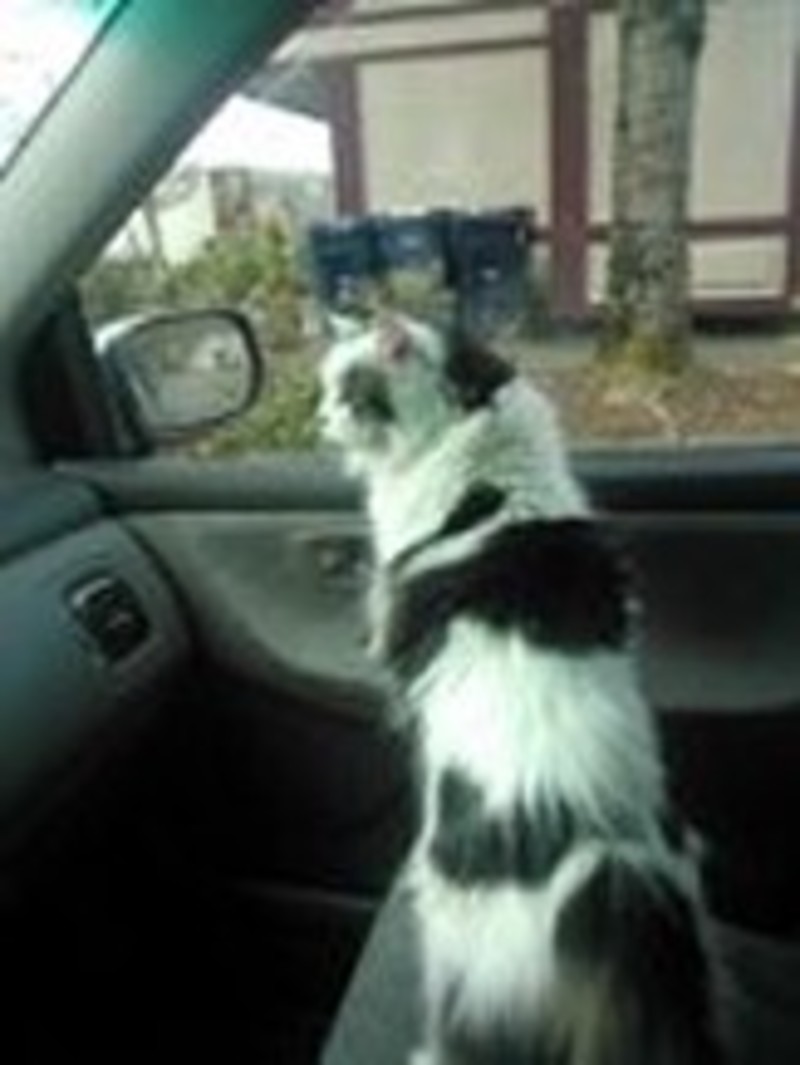 It was about 1998, a stray cat, terribly malnourished, hair all matted up, came to the front door of the store and begged for food. When I tried to give him food, he would run away. It took at least 2 months for him to trust me . I took him to the vet and had him totally shaved and gave him the necessary shots. He stayed in the store for the next few months as I desperately tried to find a good home for him. I felt he had suffered enough and it was time for him to have a good home. He looked beautiful after his hair grew out and he looked like a tuxedo. After several interviews with prospective cat owners I finally found a couple that lived in a street of dreams type home and had just lost their cat. I told the couple that they were the ones for Tuxedo. When they came to the store to pick up Tux, he was no where to be found. They waited for 3 hours for Tux to come back but he never showed. I reluctantly told the couple that it was not meant to be. They were so very disappointed and left. Only a few minutes later, Tuxedo showed up and had been with me and living in the store from that time until his passing.
R.I.P. Tuxedo - passed away in my arms on Fathers' Day 2014.

Bronze Star
Bronze star awarded to me for "valor"? It's been over 50 years ago when an incident in Vietnam during my stint with the First Cavalry, I decided to write this experience.
I was in Phuoc Vinh about 20 miles from Saigon meeting with the village chief and the heads of the NVA and Vietcong as a counterintelligence agent for the First Cavalry (sounds exciting but all I did was hand out piasters to these leaders so they wouldn't attack our military base).
One early morning my tent which housed about 10 of us was bombarded by rocket attacks. When this happens we are supposed to go directly to the bunker which is directly outside of the tent. The rockets rained down so loud and so many that I saw the other soldiers run to the bunkers but I was so scared I crawled under my cot. I felt like the rocket attack took hours but was only minutes. After the attack I crawled from under the cot and noticed blue sky. It was early morning and the tent was totally shredded with shrapnel. Even the 2x4 posts were cut in half. I stood up and heard my comrads outside yelling "is he alive?"...they came into the tent and saw me totally shaken. I had a small shrapnel in my back and went to the medic and they said I should apply for a Purple Heart. I didn't do it because soldiers died to receive the medal and I felt too embarrassed to ask for one (I regret that decision now).
About a month later I was called into the commanding officer's houch. As I entered, the CO stood up alongside several other officers and they "saluted" me.
I didn't understand what was going on. As I stood there the CO read a document that said "due to your outstanding courage during the enemy attack, you held your position and fought off the enemy with no regard to your own life."
I couldn't believe what I just heard. If this happened when I first entered the military I would have explained everything and refused the award but after 3 years I decided to keep quiet and agree with them about my courageous stance against a hostile enemy.
It is now 2023 and I am now for the first time able to tell this story. It seems to follow my experiences in business and in life.